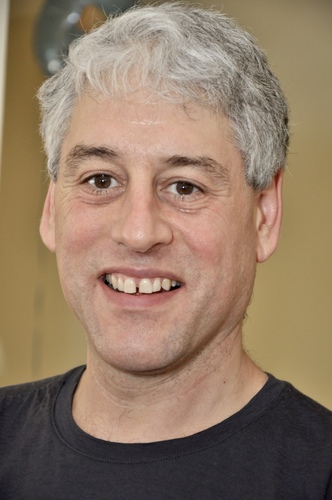 Mark has been in practice since 1990 and has come to be widely recognized as a skilled and compassionate practitioner and teacher of craniosacral therapy and its related osteopathic manual practices of visceral manipulation, myofascial release, joint mobilization and matrix repatterning.
Mark's strongest competencies with infants and children are the result of working with thousands of clients over the last 32 years.
Mark graduated Summa Cum Laude from McMaster University in 1988 with an Honours B.A. in Philosophy, plus most of a B.Sc., then graduated in 1990 from the Canadian College of Massage & Hydrotherapy.

Mark taught anatomy and physiology at the college, and developed and taught a course on self care for massage therapists. He then also assisted in teaching many of the craniosacral therapy courses for the Upledger Institute and the Cranial Therapy Centre with Robert Harris.

Mark is committed to lifelong learning by attending and teaching courses in osteopathic manual therapies (OMT) such as Craniosacral Therapy, Strain/Counterstrain, Myofascial Release, Fascial Trains, Visceral Manipulation, Muscle Energy Techniques, Joint Mobilization, Applied Kinesiology, Neuromuscular Therapy, Ergonomics, SomatoEmotional Release, Psychotherapeutic Bodywork, Progressive Muscle Relaxation, Therapeutic Touch, Pediatric Therapy, Working with Special Children, and Patient Active Treatment Approaches. Most recently he completed a year long practitioner course in Matrix Repatterning with Dr. George Roth.

In the past Mark has practiced with Dr. Robert Gatis, N.D. and Dr. Christopher Hassell, M.D. Mark also designed, built, owned and was Clinical Director for 7 years of Wellspring Therapeutics, a multidisciplinary clinic in Newmarket, Ontario offering craniosacral therapy, massage therapy, art therapy, psychotherapy and biofeedback.

He had a home based practice for 20 years and now sees clients at New Directions in Health, which, as of May 2021, has become the Manual Therapy department at the Marsden Centre for Excellence in Integrative Medicine in Vaughan, Ontario, with Dr. Eric Marsden N.D. And Dr. Paul Meschino, D.C.

Mark also practices at The Womb (World Of My Baby) Vaughan on Wednesdays, a multiservice therapy centre focussing on babies and mothers and fathers and new families.

Mark is also a writer with numerous published articles, and a teacher of courses and workshops to both the therapeutic community and to general audiences.

Mark has been on the faculty of Centennial College, having developed and taught the craniosacral curriculum for the Holistic Practitioner / Complementary Care Program.

Mark lectured to and served as editor and language advisor to the board of the International Functional Association - IFUNA - an organization concerned with functional orthodontics.

Mark is a member of the Ontario Massage Therapist Association (OMTA), the International Association of Healthcare Practitioners (IAHP), the American Craniosacral Therapy Association (ACTA), and has been a Registered Massage Therapist (R.M.T.) since 1990.

Mark has two grown up daughters and two grandsons :), is an avid outdoors enthusiast and adventure cyclist, and has recently moved to Guelph, where he will provide therapy services from his home office and local housecalls.